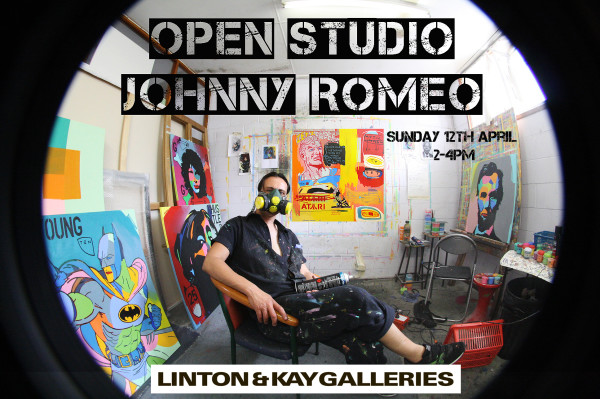 Internationally acclaimed Australian Pop artist Johnny Romeo is proud to announce that he has joined renowned Perth gallery  LINTON & KAY GALLERIES.
OPEN STUDIO will celebrate his official launch with LINTON & KAY GALLERIES.
The exhilarating showcase, which features works hand-selected by Romeo and the directors at LINTON & KAY GALLERIES, masterfully captures the intoxicating sugar-rush of Neo-Expressionist energy, rock'in'roll swagger and Pop savvy that characterise Johnny Romeo's paintings.
OPEN STUDIO runs from April 1st – April 15th, 2015 @ LINTON & KAY GALLERIES, PERTH.
The Old Perth Technical School – Level 1 / 137 St Georges Terrace, Perth WA 6000.
Johnny Romeo will give an artist talk on Sunday 12th April, 2015 – 2-4pm.
Any enquires concerning Johnny Romeo's OPEN STUDIO can be made directly through LINTON & KAY GALLERIES (perth@lintonandkay.com.au) or by calling the gallery on +61 8 6465 4314.
March 22, 2015