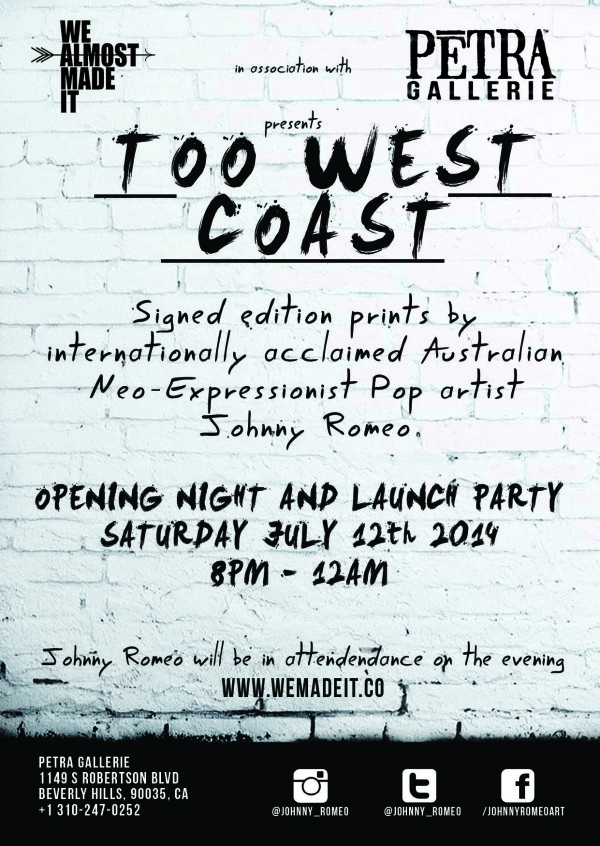 We Made It, in association with Petra Gallerie, is proud to present Johnny Romeo  |  TOO WEST COAST  |  Editions on Paper.
TOO WEST COAST sees We Made It burst on to the scene with an explosive launch party at Beverley Hill's Petra Gallerie, featuring the leading face of Australian Pop Art, Johnny Romeo.
Spanning Romeo's celebrated career, the open edition series is a lovingly crafted visual mix-tape of Johnny Romeo's inimitable Neo-Expressionist Pop charm. Kaleidoscopic colour explosions collide with an invigorating, punk-pop grittiness to form works that burst at the seams with an intoxicating swag that is well and truly Too West Coast.
Johnny Romeo will be in attendance on the evening.
Also there will be a drawing for a signed Jimi Hendrix print! So bring your business card or information. Must be in attendance to win!
Refreshments and one of LA's best gourmet food trucks! Brune's Creole Soul Kitchen.
Music by DJ Azmyth.
Opening: Petra Gallerie   |   Saturday July 12th 2014   |   8pm-12am
1149 South Robertson SORO
Beverly Hills, California
+1 310-247-0252
www.wemadeit.co
www.petragallerie.com
June 29, 2014