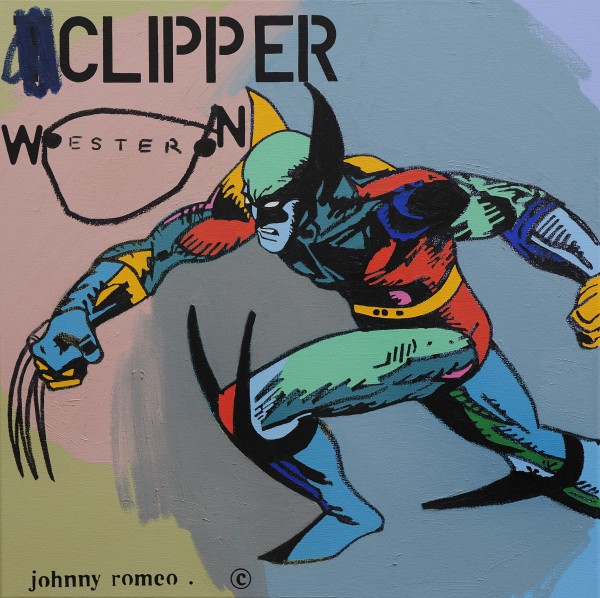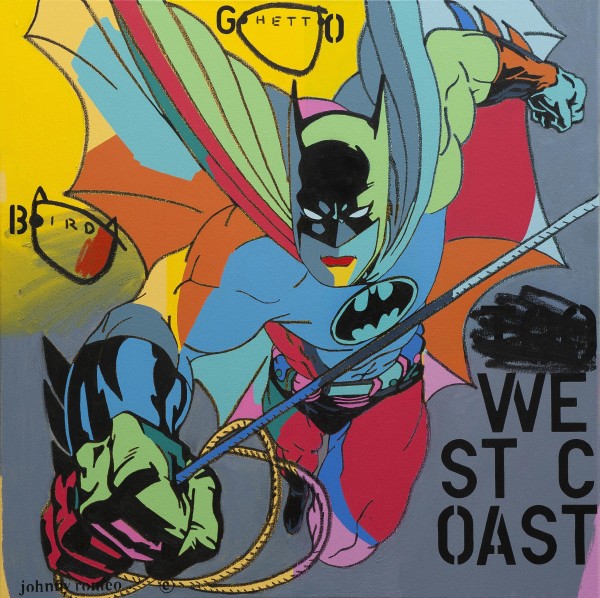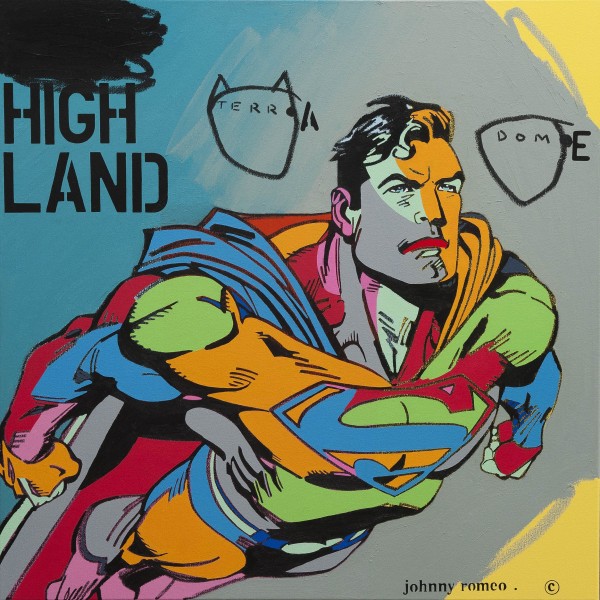 Johnny Romeo
DIRTY BOULEVARD
New Paintings
Following the sell-out success of his highly celebrated Pussy Riot exhibition in Alice Springs earlier this year, Dirty Boulevard is a knockout punch of incendiary Neo-Expressionist Pop from internationally acclaimed artist Johnny Romeo.
Inspired by the Lou Reed tune of the same name, the series is a thrillingly bleak rumination on Hollywood, where the Great American Dream has been grotesquely transformed into the Great American Hustle. With his fiery flare for larger-than-life colour arrangements and comic book aesthetics, Romeo re-envisions Hollywood as a gritty urban wasteland of degenerates, has-beens and low-life leeches.
Drawing on the iconic imagery of classic comic book heroes and his own experiences of Los Angeles, Johnny Romeo has created a striking visual allegory for the restlessness and perilous pull of Hollywood. An all-male entourage of heroes such as Batman, Spiderman and Superman splay across canvases with riveting force, dripping with attitude. With rippling muscles and bold, exaggerated forms rendered in rich black lines, Romeo's heroes are larger-than-life figures that embody the irrepressible energy of a city driven by hedonism and complete excess.
Delving deeper into Dirty Boulevard, however, presents a more sinister journey into the belly of the beast. Romeo's signature brand of vivacious Technicolour hues are here muddied by expanses of turgid greys and maroons. The interplay of colours creates an intriguing dynamic that pits our idealised visions of Hollywood against its reality as a dingy, concrete jungle of desperation and disillusionment. The motif of flight recurs throughout the series, but appears as symbol of imprisonment rather than emancipation. Referencing Reed's laconic refrain in 'Dirty Boulevard' ('I want to fly from the dirty boulevard'), 'Terra Dome' presents a soaring Superman whose freedom is undercut by his expression of resigned defeat; a fatal recognition that he will never escape the seductive snare of Hollywood.
Influenced by the urban grittiness of hip-hop, Dirty Boulevard bristles with a visceral swagger that reflects both the colourful allure and grimy edginess of Hollywood Boulevard. Like the street-smart braggadocio of a seasoned rapper spitting hardened rhymes, Romeo's masterful fusion of graffiti art and text hits hard with a punchy, rhythmic urgency. The works are rife with pithy references to classic hip-hop and LA culture, from Public Enemy's 'Terra Dome' to Ice Cube and LA's infamous 'Ghetto Bird' helicopters, painting a grim picture of Hollywood as a gangster's paradise of violence and vice.
Romeo's signature humour and spirited word play is especially blistering in the work 'Swag'. Subverting the hyper-cool confidence associated with the rap term, Romeo cleverly manipulates the pictorial plane to depict a drunken, ambling Spider-Man crawling wretchedly towards the audience – a lost soul who is more stagger than swagger.
Johnny Romeo's Dirty Boulevard is a gloriously harrowing and exhilarating romp through the seedy underbelly of Hollywood. The series masterfully fuses Romeo's unique brand of humour, white-knuckled post-punk aggression, and graffiti grit to create an urban hymnal to the Lost, which rails against the illusory promise of fame.  An elegy to broken hope, the series envisions Hollywood as a kaleidoscopic bad-acid trip; a seductive, dirty boulevard, where the Great American Dream reveals itself as the Great American tragedy.
With Johnny Romeo in attendance, DIRTY BOULEVARD opens at 5:30 – 8pm on Friday 13th June at Penny Contemporary, 187 Liverpool Street, Hobart Tasmania. The exhibition will run until 14th July.
For any enquiries: info@pennycontemporary.com.au | www.pennycontemporary.com.au | 03 6231 5655
June 7, 2014