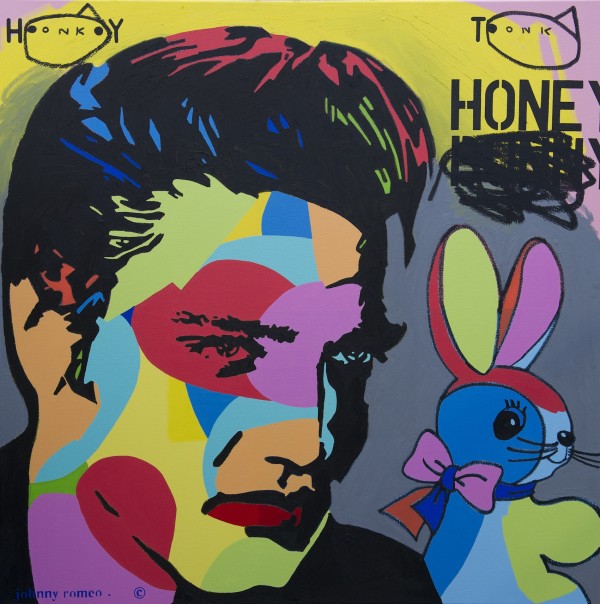 Johnny Romeo's much anticipated Sydney show DEADWOOD opens @ NG Art Gallery, Chippendale, Sydney. August 13th – September 21st, 2013.

Opening Night: Tuesday 13th August, 2013 @ 6-8pm
DEADWOOD will be opened by Visual Arts Writer for The Daily Telegraph Elizabeth Fortesque.
DEADWOOD, the latest series from internationally acclaimed artist Johnny Romeo, is one of the most anticipated shows of 2013. A glorious romp through celebrity nostalgia and the seamy underbelly of pop culture, the series a truly incendiary paean to Hollywood in all its neon-drenched, trashy glory.
Johnny Romeo is leading the global charge of Neo-Expressionist Pop art. Described by GQ Magazine Australia as 'part punk, part pop', Romeo's colourful collision of rock'n'roll swagger, comic book aesthetics, Neo-Expressionism and street art has been turning heads worldwide. Following a collaboration with globally renowned punk band Blink 182 earlier this year, Romeo has received rave reviews from major shows in New York and Los Angeles and a sold out show in Pennsylvania. Romeo's collectors include major Hollywood stars such as Leonardo DiCaprio, Robert Gossett and many others.
Any enquires concerning DEADWOOD can be made directly through NG Art Gallery (ng@ngart.com.au) or by calling the gallery on +61 9 318 2992.
July 23, 2013