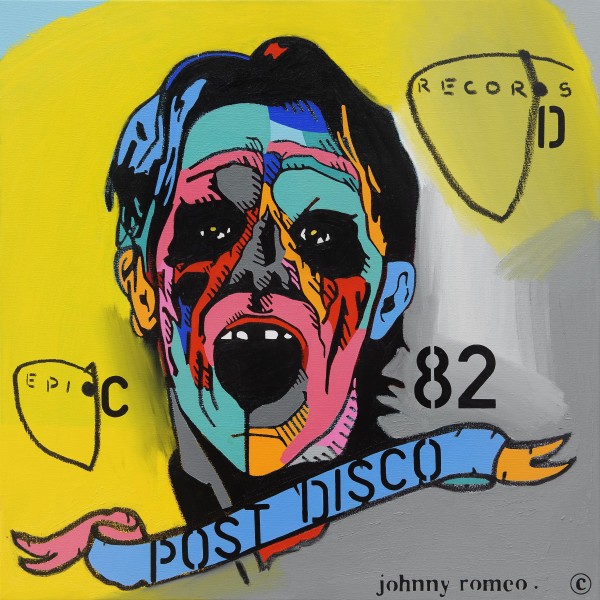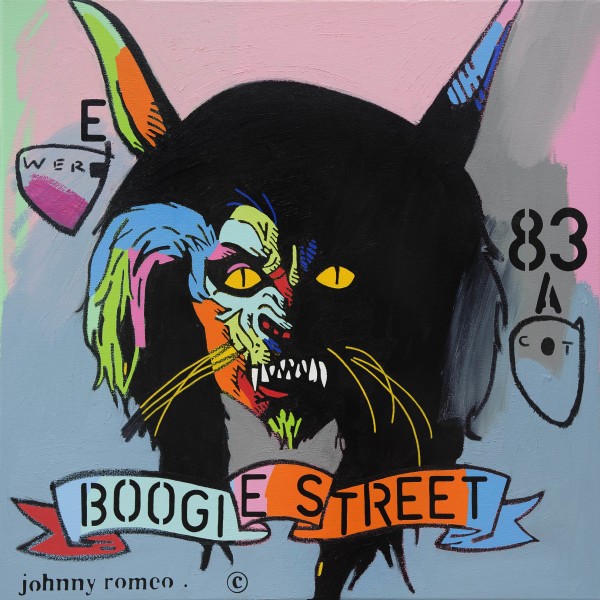 Johnny Romeo: THRILLER series
When it comes to music videos, none come as iconic or influential as Michael Jackson's ground-breaking 1983 clip, 'Thriller'. From its zany zombie dance routine, Vincent Price's notorious spoken word and Michael Jackson's transformation into a werecat, 'Thriller' remains a truly watershed moment in Pop culture.
In his latest series, 'Thriller', internationally acclaimed Australian Pop painter Johnny Romeo playfully pays tribute to the seminal Michael Jackson clip. An explosive fusion of ghoulish imagery and sumptuous hues, Romeo masterfully captures the 'Thriller's' unique vision of classic horror and Pop exuberance in all its glory.
Johnny Romeo's post-disco undead are rendered with sumptuously rich lines that recall the rubbery, bass-laden synth lines of its namesake. With his panache for lively colour and word-art arrangements, Romeo enlivens his paintings with a bouncy, rhythmic dynamic and the neon sheen of classic Pop music that belies the grimness of its subject matter.
Romeo's keen sense for juxtaposition is especially potent in the work 'Boogie Street 83'. Draped in shadows, with fangs glistening menacingly, the primal ferocity of the Jackson werecat is tempered with the candy sweetness of the colour palette and the banner 'Boogie Street'. Tongue firmly in cheek, Romeo has fashioned a bona fide Pop Monster who is as eager to tear up the dance floor, as it is to tear out your throat.
Heavily inspired by schlocky B-grade horror movies and Grindhouse cinema, 'Thriller' is imbued with an invigorating irreverence and perverse sense of black humour. 'Post-Disco 82' parodies the hyper-saturated campness of early 80s album covers with a supernatural twist, whilst also evoking the trashy, larger-than-life theatrical posters that lined the grimy walls of cult cinemas.
The unholy lovechild of George A. Romero and glitzy 80s pop music, reared in the gleefully violent neon-wastelands of Grindhouse, 'Thriller' sees Johnny Romeo cleverly straddling the line between Pop perfection and the macabre.
Johnny Romeo's 'Thriller' series will be part of 'A Tribute To Michael Jackson's 10 Best Film Clips' Group Show @ 19Karen, Gold Coast, Australia.
The Sofitel Gold Coast Broadbeach will host the exhibition.
Opening Night: Friday May 2nd 2014 – 6-8pm.
http://www.19karen.com.au/johnny-romeo/johnny-romeo-new.php

Any enquires concerning Johnny Romeo's THRILLER series can be made directly through 19Karen (info@19karen.com.au) or by calling the gallery on +61 7 5554 5019.
April 6, 2014