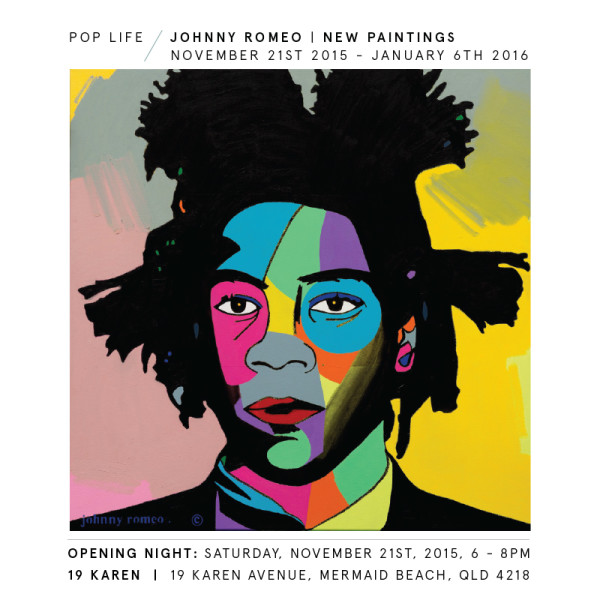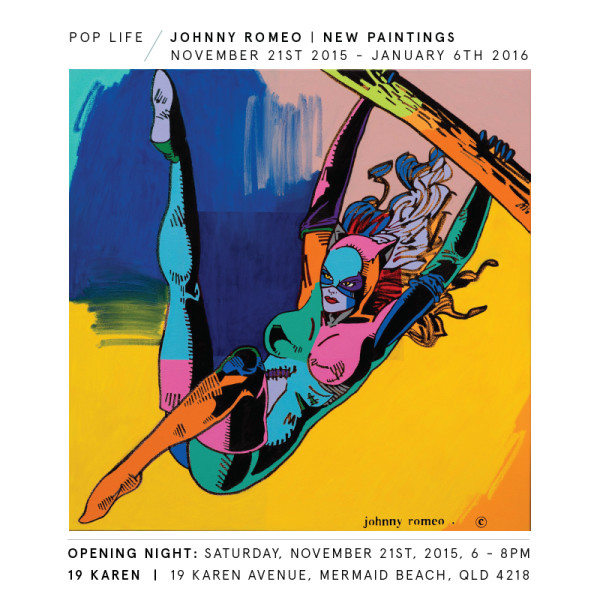 Johnny Romeo
POP LIFE
New Paintings
POP LIFE is the electrifying new series from internationally acclaimed Australian Pop painter Johnny Romeo. Following on from successful shows in New York and Pennsylvania earlier this year, Romeo returns with a truly knockout collection of new paintings that offer a refreshing and innovative take on his inimitable style. Brimming with unbridled energy and slick, candy-coloured savviness, POP LIFE is a Technicolor tour de force from Australian Pop royalty that sees Romeo at the forefront of the global Neo-Expressionist Pop movement.
POP LIFE is classic Johnny Romeo played with the volume turned well up to eleven. Full of kaleidoscopic hues and thick, commanding lines, Romeo's latest works sizzle with undeniable attitude and visual swagger. The consummate Postmodern sampler, the larger-than-life appropriations of cultural icons featured in the series span from personal artistic heroes like Basquiat and Picasso, to gun-slinging bodacious babes and rollicking renditions of Ned Kelly. Romeo's wildly eclectic slices of subversive Pop iconography act as colourful celebrations of the cultural images that populate the Pop Metropolis that is modern life.
The use of word play and text assemblages has long played a central role in Romeo's works. POP LIFE, however, marks a shift away from words in Romeo's usual visual vocabulary, while maintaining the visual chutzpah and glorious colour explosions that we have come to expect from Johnny Romeo. The conscious decision to eschew text has enabled Romeo to experiment with more innovative compositions while allowing his depictions of Pop icons to really speak for themselves.
Dynamic and in-your-face, Romeo's portraiture delves deep into the pervasive power of iconography in Pop culture.  This is exemplified in 'Easy', Romeo's bombastic homage to classic NWA member Eazy E. With its slick, pastel hues and rich, shadowy visage, Romeo's Eazy E exudes a staggering visual presence that evokes the gritty punchiness of street art and hardcore hip-hop, but with a Pop-inflected sheen.
Romeo's latest series sees the artist ingeniously challenge the boundaries of the canvas space. 'Swisher' depicts a neo-futurist Ned Kelly cutting through the pictorial plane with manic energy, his pistol prodding at the forefront of the image as his outstretched hand threatens to tear at the very fabric of the canvas. With their bold, exaggerated poses and taut, muscular figures, many of POP LIFE's anti-heroes and femme fatales are rambunctious and primal in equal measure, elevating Romeo's penchant for graphic gusto and comic book aesthetics to dizzying new heights.
In his enthralling new series, Johnny Romeo fully embraces the irrepressible energy of Pop icons, eschewing his penchant for text assemblages while maximizing the Technicolor bombast and boldness of his paintings. POP LIFE sees Romeo at the top of his game, offering audiences a neon-drenched world of superheroes, folk legends, and rap royalty – where Pop is king, where Pop is life.
Opening Night: Saturday 21st November, 2015 @ 6-8pm.
19 Karen   |   19 Karen Avenue, Mermaid Beach QLD, Australia   |   www.19karen.com.au
Any enquiries regarding POP LIFE can be made directly through 19 Karen Gallery (info@19karen.com.au) or by calling the gallery on +61 7 5554 5019.
Exhibition Dates: November 21st, 2015 – January 6th, 2016.
November 8, 2015