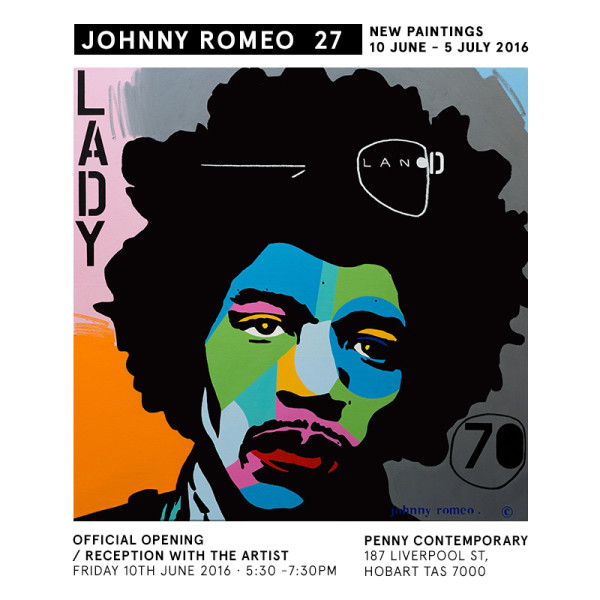 Johnny Romeo
27
New Paintings
Kurt Cobain, Jim Morrison, Janis Joplin, Amy Winehouse. The tale of the tragic celebrity, gone too soon from this earth, has long been a fascination in Pop culture. In his thrilling latest series, 27, internationally acclaimed Australian Pop painter Johnny Romeo explores the notorious 27 Club, a group of legendary musicians and artists who truly lived fast and died too young. After bursting through 2016 with a rapturously received exhibition in Perth which sold out prior to opening, and celebrated features in Artist Profile and Channel 9 program 'Postcards', Australia's King of Pop returns with a knockout collection of paintings that sees him take his inimitable Neo-Expressionist Pop stylings to electrifying new heights.
27 features Johnny Romeo's most visually arresting paintings to date. Romeo's rollicking renditions of fallen Pop icons burn with an insatiable energy and charisma, bursting through the canvas with rich, stencil-like silhouettes and robust line-work. Bold, unapologetic and in your face, the artist has crafted a series of portraits that adeptly capture the life and essence of artistic luminaries who became martyrs to fame and excess. This can be seen in the work 'Fire Sky'. Romeo's Jim Morrison, with his signature pout and amphetamine-addled glare, oozes with smouldering sensuality, recalling the hedonistic mystique of the Lizard King as he prowled the stages of LA's Sunset Strip.
Teetering between Pop sheen and riveting rawness, there is a gripping gravitas to Romeo's tragic icons that renders them both larger-than-life and heartrendingly human. The ecstatic, Technicolour bursts of Romeo's Pop icons enlivens them with an irrepressible energy that reflects Romeo's philosophy of using colour as a living, vital force. In contrast, the frenzied, turgid hues that characterise Romeo's backgrounds reflect the chaos of lives lived at a whirlwind pace, pushing the limits of pleasure and nihilism as they spin out of control.
Growing up on a steady diet of raucous rock'n'roll and the morose swamp-stomp of the blues, Romeo's clever use of text reflects the indelible influence of music in his work. Commanding, stencilled words combine with smaller scrawled text bubbles to form catchy rhyming couplets, toying with our sense of word association while paying homage to the iconic works of the 27 Club. Much like the fuzzed out refrain of a snarling grunge anthem, word combinations such as 'gas gray', 'dove dash' and 'swirl pearl' reflect a preoccupation with youthful escapism and self-destruction.
Tapping into the juncture between extinguished youth and immortality, Johnny Romeo's take on the notorious 27 Club masterfully straddles the line between triumph and tragedy, between young recklessness and the gravity of loss. Romeo has imbued his icons with a morose, haunting quality, as the sullen stares of rockstars like Jimi Hendrix look on in quiet acceptance of their untimely passing. At the same time, there is a smouldering obstinance to Romeo's fallen heroes, a resolute refusal to be forgotten as they meet the gaze of the audience with unwavering intensity.
27 is an elegy to tragic stars gone before their time, a celebration of uncompromising Pop icons who took a walk on the wild side and never lived to tell the tale. Amping up Johnny Romeo's signature Neo-Expressionist bombast and neon-drenched colour explosions to maximum volume, the series sees Australia's leading Pop artist deliver gloriously iconic Pop works loud enough to wake the dead.
Johnny Romeo | 27 | New Paintings @ Penny Contemporary, Hobart, Australia.
June 10th, 2016 – July 5th, 2016.
Opening reception with Artist: Friday June 10th, 2016 | 5:30 -7:30pm @ Penny Contemporary, Hobart.
187 Liverpool Street, Hobart, TAS, 7000.
Any enquiries regarding Johnny Romeo's 27 can be made directly through Penny Contemporary (info@pennycontemporary.com.au) or by calling the gallery on +61 3 6231 5655.
June 5, 2016