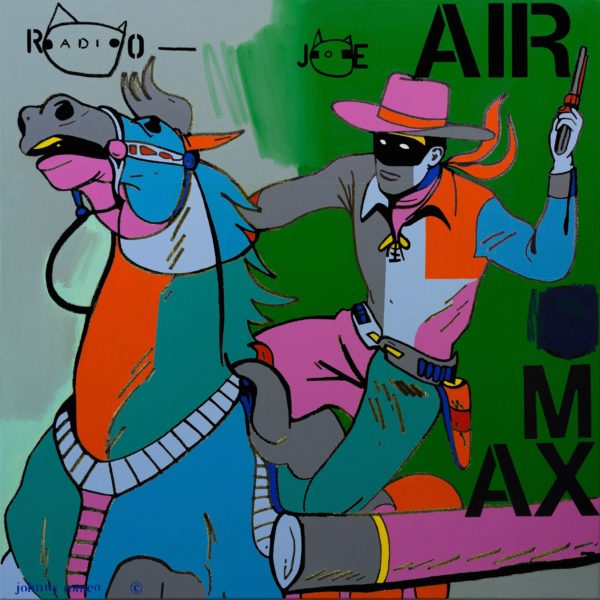 Johnny Romeo
BOOGIE STREET
Paintings & Sculptures
BOOGIE STREET is an exciting retrospective featuring select original paintings and new sculptures by internationally acclaimed Australian Pop painter Johnny Romeo. Coinciding with Tasmania's premier music, arts and culture festival DARK MOFO, BOOGIE STREET offers audiences an electrifying insight into Romeo's visual Pop journey, and a scintillating glimpse into the future direction of his work. The exhibition also sees Romeo championing fellow artists, as he introduces the works of Pennsylvania-based painter and close friend Kurt Herrmann.
The retrospective brilliantly showcases the evolution of Australia's leading Pop artist over his illustrious, decade-long career. Lovingly hand-selected by Penny Contemporary, Johnny Romeo's BOOGIE STREET draws on paintings from the artist's personal studio and overseas collections from 2008 – 2017. BOOGIE STREET is a testament to Romeo's uncanny ability to push the Pop envelope into thrilling new terrain, veering from the rawness of Romeo's earlier gritty, graffiti-punk stylings to the chic Neo-Expressionist Technicolour Pop bombast of his later works.
Since busting on to the Australian art scene in 2007, Johnny Romeo has become an international force to be reckoned with, creating vital, highly kinetic Pop paintings with a rambunctious punk edge. Romeo gleefully appropriates Pop icons, brand name imagery and popular music, mish-mashing Mohammed Alis and Ned Kellys with the braggadocio of hip-hop lyrics to reconfigure beloved icons into bold, satirical visions of a Pop-obsessed world. Much like the title of the exhibition, there is an irrepressible boogie and swagger to Romeo's inimitable Neo-Expressionist Pop style. The retrospective illustrates Johnny Romeo's fascinating progression in balancing imagery and text in his paintings, as he moves from the Basquiat-esque acid-jazz squall of his late 2000's paintings into the funky, rhythmic punchiness that has come to define many of his recent bodies of work.
BOOGIE STREET is as much an insight into the past as it is a window into the future. Johnny Romeo continues his bold venture into fresh new territory with his addition of neon-nightmare wall sculptures, a shift he began experimenting with in his 2016 Brisbane show WASTELAND. The disembodied perspex portraits resemble the withering surfaces of billboards from a post-Pop dystopia, a surreal simulacra of advertisements as filtered through Romeo's sugar-rush Pop lens. Inspired by Jeff Koons' recreation of kitsch everyday objects, Romeo's sculptures interrogate notions of authorship and mass-production both in his own practice and the world of Pop culture.
A keen supporter of fellow artists, Johnny Romeo is also excited to introduce audiences to the expressive paintings of Pennsylvania-based artist and dear friend Kurt Herrmann as part of BOOGIE STREET. Living at the foot of the Appalachian mountains, Herrmann's paintings are gestural, colour-rich observations of regional life in all its beauty, banality and occasional backwardness. Colour is treated as a living force in Hermann's work, evoking the seasonal changes of rural Pennsylvania with warmth and liveliness. While his provincial musings may seem removed from the hyper speed, urbane Pop of Romeo's works, Hermann's pithy observations of Appalachia compliment Romeo's own propensity for capturing life's absurdities on canvas.
BOOGIE STREET draws deep from Johnny Romeo's highly celebrated decade long career, unearthing visual gems old and new to demonstrate his mastery of the Pop format. Full of Romeo's signature colour explosions, brazen imagery and razor sharp wit, the series is a captivating glimpse into the mind of Australia's King of Pop, while shining a glorious new light on new directions and unseen talent.
Johnny Romeo | BOOGIE STREET | Paintings & Sculptures @pennycontemporary Hobart, Australia | June 9th – July 3rd 2017.
Opening reception with Artist: FRIDAY June 9th 2017 @ 5:30-7pm @ Penny Contemporary, Hobart.
187 Liverpool Street, Hobart, TAS, 7000.
Any enquiries regarding Johnny Romeo's BOOGIE STREET can be made directly through Penny Contemporary (info@pennycontemporary.com.au) or by calling the gallery on +61 3 6231 5655.
June 8, 2017