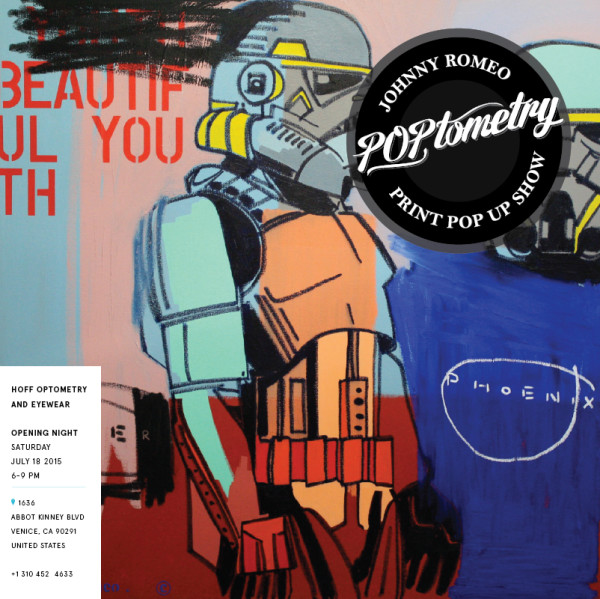 Johnny Romeo   |   POPTOMETRY   |   Print Pop Up Show @ Hoff Optometry & Eyewear Venice, California, USA.
Opening Night: Saturday July 18th @ 6-9pm.
POPTOMETRY is the glorious new collaborative print pop up show by internationally acclaimed Australian Pop artist Johnny Romeo and renowned Californian optometrist Hoff Optometry & Eyewear. Filled to the brim with captivating colour arrangements, tongue in cheek humour and Romeo's inimitable Neo-Expressionist Pop swagger, the print collection is an exhilarating celebration of all things Pop that showcases some of Romeo's most iconic works.
Located on Venice Beach's stylish Abbot Kinney Boulevard, Hoff Optometry & Eyewear is led by high profile optometrist Dr James Hoff. Committed to quality clinical services with a stylish flair, Hoff Optometry brings together the worlds of eyewear and cutting edge art and design to offer clients a truly unique experience.
The pop up print show comprises of 15 works expertly selected and curated by Dr Hoff, which span across Johnny Romeo's highly celebrated career. A cheeky portmanteau of 'pop' and 'optometry', the title perfectly captures the playfulness and exuberance that lies at the heart of Romeo's electrically charged Technicolour visions of Pop culture in all of its glory and excess.
POPTOMETRY is a visual feast for the senses that views the world through psychedelic, Pop-coloured lenses. Exploding with expressive swathes of sun-kissed colours, the prints conjure the liveliness and neon-saturated bustle of Venice Beach. The brilliant, confectionary sweet hues of works such as 'Haze Gaze' (2014) and 'White Cello' (2015), with their vibrant yellows and candied pinks, brings to mind summery, carefree jaunts through California.
A veritable Post-modern sampler, Johnny Romeo's rambunctious and savvy works draw from the full spectrum of Pop culture. Musical luminaries, silver-screen celebrities, artistic heroes and brand name icons all share air-time in Romeo's visual broadcasts, highlighting both the dynamic eclecticism that so strongly characterises the artist's works and society's fascination with Pop culture.
With his heady fusion of sleek iconography and gritty, stream-of-consciousness text, Romeo's pithy verses evoke the pervasiveness of advertising slogans, as filtered through the hardened rhymes of rappers straight out of the urban jungles of LA. Romeo's distinct approach to clever word arrangements also pay homage to Venice Beach's history as a cultural hub for Beat Poets and creative types.
The collaboration of Johnny Romeo and Dr Hoff in POPTOMETRY sees a meeting of kindred spirits with a deep fascination for dazzling colour and stylish, bold imagery. The print show is a ballsy, luminous celebration of Pop in all its kitschy, neon-saturated glory that showcases Australia's leading Pop artist at the top of his game.
Any enquires concerning Johnny Romeo's POPTOMETRY can be made directly through Hoff Optometry & Eyewear on +1 310 452 4633 or by calling Paulina Castelli on +1 562-716-0149 or by email (paulina@prizeofvenicela.com).
July 12, 2015