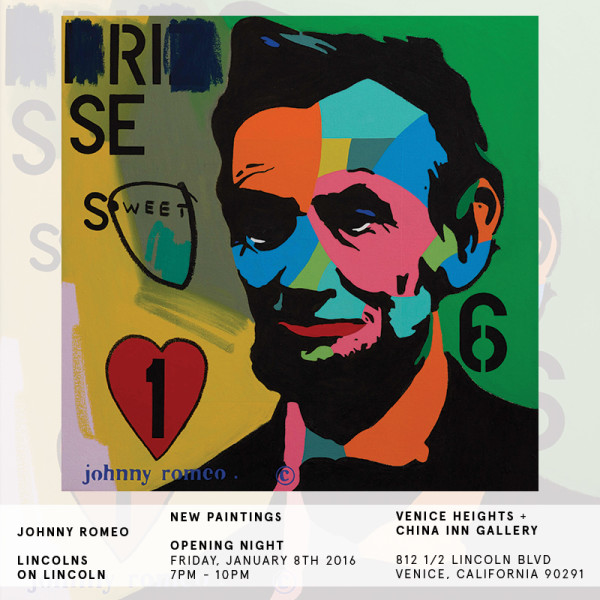 Johnny Romeo
LINCOLNS ON LINCOLN
New Paintings
Following a string of highly celebrated and sold-out shows in the US and Australia, internationally acclaimed Australian Pop painter Johnny Romeo is back with his exhilarating new series LINCOLNS ON LINCOLN. Returning to Venice Beach and exhibiting on hip Lincoln Boulevard, LINCOLNS ON LINCOLN is a towering Technicolour testament to America's most beloved president, wrought in Romeo's inimitable Neo-Expressionist Pop style. Brimming with Romeo's signature graphic gusto, and eye for captivating colour arrangements, the series of 10 paintings is a vivacious reinterpretation of Abraham Lincoln from Australian Pop royalty.
Johnny Romeo's rollicking renditions of Lincoln are bold yet nuanced, buzzing with an insatiable Pop edge while capturing the stoicism that has come to characterise the Lincoln icon. With its rich, slick line-work, garish tattoo motifs and confectionary sweet hues, there is an unashamed kitschness to the series that imbues Lincoln with an unexpected playfulness.
At the same time, there is an emotional gravitas underlying Romeo's Pop president. In many of the paintings, Lincoln's gaze is austere and enduring, meeting the gaze of the onlooker with unflinching authority while turgid expanses of colour streak the background with a pensive potency. The masterful balance between bombast and introspection, euphoria and melancholia, give the works an emotional complexity that humanises the often-mythologised legacy of America's most beloved president.
Drawing from all stages of Abraham Lincoln's life, the series showcases Johnny Romeo's uncanny ability to twist historical references into pithy Pop observations and cheeky double entendres. Text is rendered in thick, commanding lines that mirror the declaratory nature of presidential addresses, while the addition of smaller, scrawled speech bubbles captures a brilliant mind in contemplation.
Clever word assemblages and stream of consciousness text cascade across the canvas, forming infectious rhyming couplets that play with our sense of word association while ingeniously creating parallels between Lincoln's life and Pop culture. This is exemplified in the work Strive Land. The subtle inclusion of the letters 'BB' make reference to the presidential tailors the Brook Brothers, and the jacket Lincoln was wearing when he was assassinated. In the same breath, the BB is a subtle allusion to hip-hop culture, standing for 'B-boy.'
LINCOLNS ON LINCOLN is a Technicolour re-envisioning of Abraham Lincoln like you have never seen before. With his penchant for garish colour explosions, strikingly bold imagery and whiplash witticisms, Johnny Romeo continues to spearhead the global Neo-Expressionist Pop movement while transforming Abraham Lincoln into a bona-fide Pop icon.
Opening Night: Friday 8th January, 2016 @ 7-10pm.
Venice Heights / China Inn Gallery – 812 1/2 Lincoln Blvd. Venice, California 90291, United States.
Any inquiries regarding LINCOLNS ON LINCOLN can be made directly through Venice Heights / China Inn Gallery (paulina@veniceheights.com) or by calling the gallery / Paulina on +1 562 716 0149.
December 26, 2015