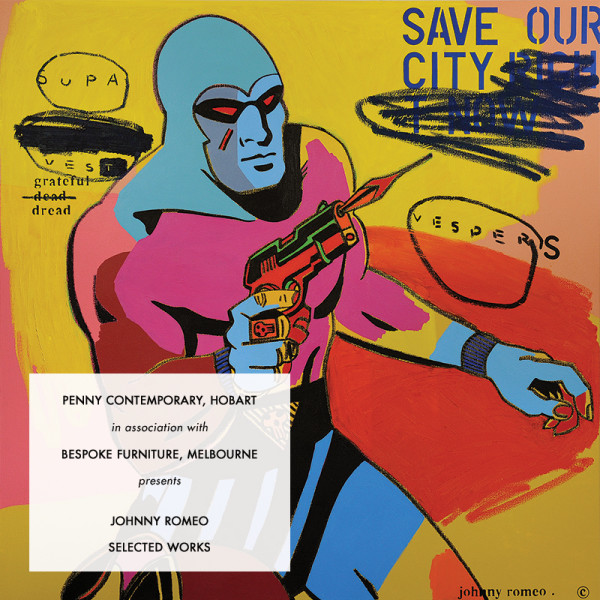 Johnny Romeo
Selected Works
Penny Contemporary Hobart, in conjunction with Bespoke Furniture Melbourne, is proud to announce JOHNNY ROMEO SELECTED WORKS, the thrilling new exhibition of paintings and prints from internationally acclaimed Australian Pop painter Johnny Romeo. Brimming with explosive colour arrangements, graphic gusto and Romeo's inimitable Neo-Expressionist swagger, Selected Works is a neon-drenched celebration of all things Pop that showcases some of Romeo's most iconic works.
Bespoke Furniture is an Australian owned family business building timber furniture in the hip inner-city Melbourne suburb of Richmond. With a focus on sleek, elegant timber designs that use reclaimed hardwoods and sustainably sourced new timber, Bespoke is committed to crafting furniture that is suited for the way we live in the here and now.
Expertly curated by Penny Contemporary, in conjunction with Bespoke Furniture, the selected works on show offer audiences an exhilarating cross-section of Johnny Romeo's highly celebrated career. Romeo's pithy Pop observations of contemporary life and our obsession with Pop culture cleverly echoes Bespoke's ethos of crafting furniture that reflects modern living.
Johnny Romeo's expressively brazen fusion of glossy iconography, comic book aesthetics and gritty-stream of consciousness text ingeniously evokes the pervasiveness of advertising slogans, as refracted and reinterpreted through the creative urban experience. Romeo's highly energetic take on graffiti art, with its unapologetically bold swathes of colour and clever word assemblages, also reflects the spray-paint splattered laneways that make up Melbourne's vibrant street art scene.
SELECTED WORKS is a visual feast for the senses, with paintings and prints that celebrate and cheekily subvert the plethora of icons that make up our Pop vernacular. The consummate Post-modern sampler, Romeo's rambunctious and savvy works draw from the full spectrum of the Pop world. Classic comic book heroes, artistic heroines and Grindhouse motifs all share air-time in Johnny Romeo's vibrant visual broadcasts, highlighting the dynamic eclecticism and whiplash witticisms that have made the artist such an incendiary force in contemporary Pop Art.
The collaboration between Johnny Romeo, Penny Contemporary and Bespoke Furniture Melbourne in SELECTED WORKS is a veritable meeting of kindred spirits, who each share a deep commitment to capturing contemporary living through art and design. With classic works bursting at the seams with exuberant Technicolour arrangements and larger-than-life Pop imagery, SELECTED WORKS sees Australia's own king of Pop at the top of his game.
Opening Night: Friday 4th December, 2015 @ 6-8pm.
Bespoke Furniture Melbourne | 377 Bridge Road, Richmond, Victoria, Australia.
Any enquiries regarding SELECTED WORKS can be made directly through Penny Contemporary (info@pennycontemporary.com.au) or by calling the gallery on +61 3 6231 5655 or Sonia on +61 438-292-67.
November 30, 2015