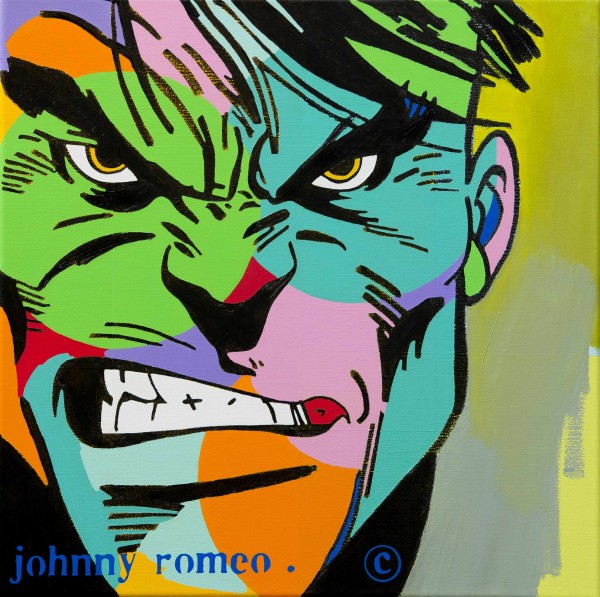 Internationally acclaimed Australian Pop painter Johnny Romeo comes roaring out of the gates with all guns blazing with his latest powerhouse work, 'SO YOUNG / SO ANGRY.' The knockout painting will be featured as part of the upcoming international group show 'PAIN/TING', being at the Open Walls Gallery in Berlin, in conjunction with 19 Karen Gallery. Showcasing the works of 20 contemporary artists from Australia and overseas, the exhibition explores the artist's inner state and the notion of suffering for one's art.
'SO YOUNG / SO ANGRY' sees Johnny Romeo channel the righteous angst and youthful dissent that characterised his early days as an artist. Delivering his signature comic book aesthetics with the sheer gusto and brute force of a heavyweight boxer, Romeo adopts an invigoratingly raw approach to his line-work to capture the spirit of anguish and defiance in his latest piece. Bringing his portrait right to the forefront of the canvass, Romeo has created a piece that actively confronts the audience, forcing them to take in the gnarled facial grimace, the piercing fiery eyes and the seething venom barely contained between gritted teeth.
Eschewing his usual penchant for text, Romeo allows the exhilarating ferocity of his portrait to speak for itself. Here, Johnny' Romeo's pithy pop witticisms is replaced with the invigorating urgency and violence of early basement hardcore shows; all sweaty, gnarled bodies, shredded vocals and empowering resistance.
Drawing from the rambunctiousness of classic puck and the irascible braggadocio of old-school hip, Romeo's extreme close-up is unapologetic in its righteous fury. Influenced by the lyrics of hardcore rapper Ice Cube, 'SO YOUNG / SO ANGRY' is a brass-knuckled celebration of rebellion and creativity, and more notably rebellion as creativity. This is reinforced by Romeo's gloriously Technicolour colour palette, whose saccharine pinks and citrus-bright oranges help to imbue the howling rage of his portrait with an almost adolescent ebullience.
Dripping with an unhinged, primal energy and a gloriously gritty, punk rock attitude, 'SO YOUNG / SO ANGRY' is Johnny Romeo at his most brazen, his most confrontational, and his most visceral.
Opening night  – 1st August @ Open Walls Gallery, Berlin @ 6-9pm.
Any enquires regarding Johnny Romeo's work can be made directly through 19Karen (info@19karen.com.au) or by calling the gallery on +61 7 5554 5019.
For more information – www.19karen.com.au | www.openwallsgallery.com
July 22, 2015